Legal
When clients need legal help, they don't have time to wade through multiple search results. Make sure your firm comes out on top. And that you look good!
Reputation Management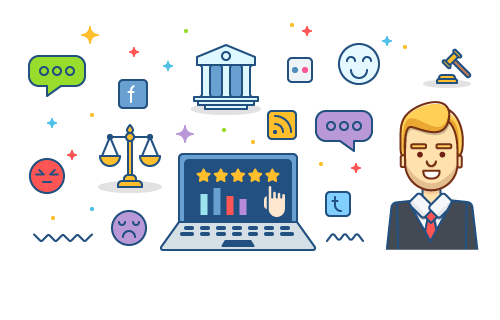 An essential part of managing your reputation online involves controlling what appears on the Bing, Google, and Yahoo search engines when a potential client searches for your name or brand. Naturally, you want to ensure they see the most useful, relevant, and positive information first. If negative or false information exists, Review Ninja can help you manage that as well.
Part of every attorney's ongoing activities should involve working to maintain a good professional reputation. This is important in any business, but even more so in law. In a recent consumer survey, 88 percent of respondents stated that an individual lawyer's reputation was one of the most important factors when selecting someone to represent them.
Important Legal Industry Statistics to Consider
You know your online reputation is important, but you probably don't realize just how critical it really is. Consider these statistics:
A whopping 96 percent of people needing legal advice turn to a search engine to find it.
Of people who contact an attorney, 87 percent hire one. Further, 72 percent interview a single attorney when deciding who to hire.
Three out of four people who start their search online follow up with a phone call.
38 percent of people needing legal help find their attorney online.
Manage Your Listings & Online Reputation More Effectively with Review Ninja
Manage your business reputation from your mobile phone
Our marketing software assists lawyers in collecting positive reviews from clients so they can build an online reputation as experts. People are naturally drawn to legal firms they think have the most experience.
You can see your ratings boost in a hurry with Review Ninja. Our software gathers new client reviews from MMS and SMS alerts to their mobile phones. We employ intelligent deep linking to sites like Facebook, Google, and CitySearch that are critical to attract more business. You are fully in charge of the content of your text messages.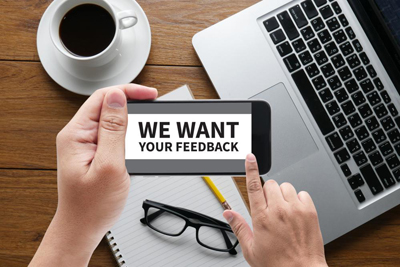 Increase your Google ranking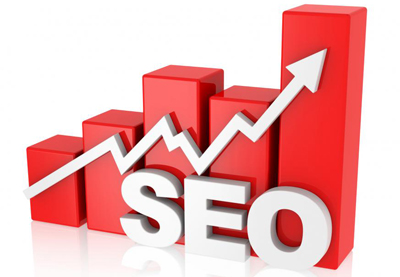 Did you know that local listings have the third largest influence on search engine rankings? We make sure that your law firm can be found easily in online searches by keeping your business information updated across more than 50 review sites.
We give you the opportunity to display your most positive reviews along with updated business information on microsites created by Review Ninja. Additionally, we optimize these sites to improve search engine results and Google indexing.
Engage with feedback from clients in the moment
People tend to trust others who have worked with your firm the most. Review Ninja makes it possible to monitor reviews from sites like Avvo, CitySearch, Google, and Facebook from a single dashboard.
Another great feature is that you can listen in and respond to what clients are posting right away. This enables you to manage any negative reviews by addressing problems on the spot. We keep less than positive information confidential by directing it to you for resolution.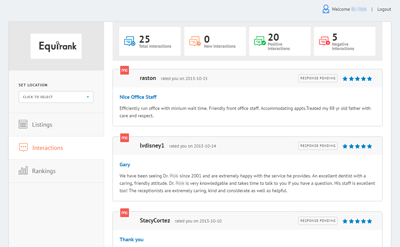 Promote positive client feedback automatically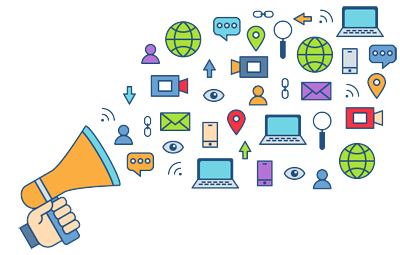 Let everyone know about your happiest clients by automatically publishing their reviews on sites you manage. This can be your law firm website, blog, and social networks such as Twitter, Google+, and Facebook. The more positive reviews people see, the greater the reputation your company enjoys.
Clients who trust your solid online reputation know that your firm can win their case.